This site has been 'in progress' for a few years now. I know there are dead links sprinkled throughout but I've not had the time to come and go through the site one page at a time and test each link. It has been years in the building so I know I could not possibly go through the whole thing in a specified length of time. If you run across a dead link, please send me an email specifying which page it is on and which link it is. You can reach me at dnsgrl373 at yahoo dot com I noticed today that my craft links are all dead so I will be removing those now. Thank you. Katy R
-=-=-=-=-=-=-=-=-=-=-=-=-=-=-=-=-=-=-=-=-=-=-=-=-=-=
May you always have work for your hands to do.
May your pockets always hold a coin or two.
May the sun shine bright on your windowpane.
May the rainbow be certain to follow each rain.
May the hand of a friend always be near you
May God/dess fill your heart with gladness to cheer you!
Honoring the Goddess and the God!
THE LOVERS BY MICKIE MUELLER ( WWW.MICKIEMUELLERART.COM )
The kiss of the sun for pardon, the song of the birds for mirth, One is nearer God's heart in a garden than anywhere else on earth. (Dorothy Frances Gurney)
Heal the Earth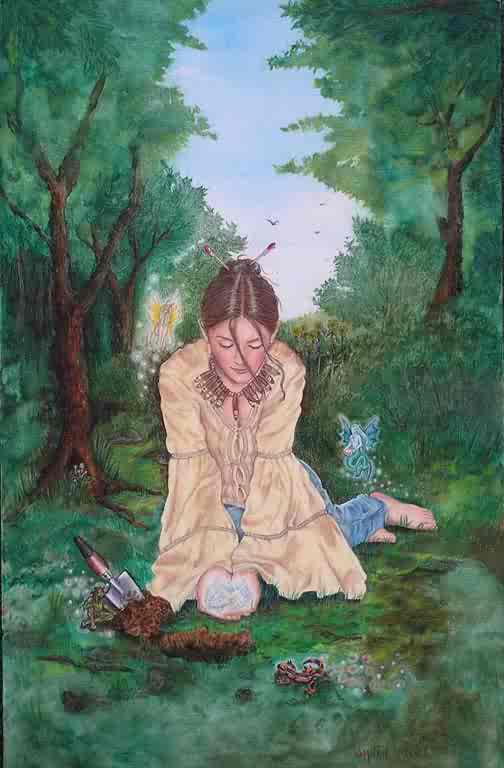 Mickie Mueller http://www.mickiemuellerart.com/ Used with permission of the artist
Ah, I found the perfect green witch photo. It is entitled "Heal the Earth"; the absolutely fantastic artist is Mickie Mueller; you can find her website by clicking on the link below. It will open in a new window. She has lots of wonderful art there and I know she'd love for you to drop by and check it out. She has gods and goddesses, fairies, magical beings, etc. You will be impressed!
The size of this photo is larger than I intended to use, but you can't see all the lovely detail in the smaller options.
Visit Mickie Mueller's art site.
I deleted the previous 'Planet Earth' video that was on this site because of copyright issues. I have replaced it with this one from "The Secret". I hope you enjoy it!
Wishing you peace, joy, happiness, and a deep love for your fellow man all through the year!
It is with a heavy heart that I have to say that the Green Witch Garden is no longer accepting applications for membership. So I have removed the information about the group. I hope I will be able to maintain the website.
I wish you peace and protection in all of your journeys. Be blessed!